STEAK SANDWICH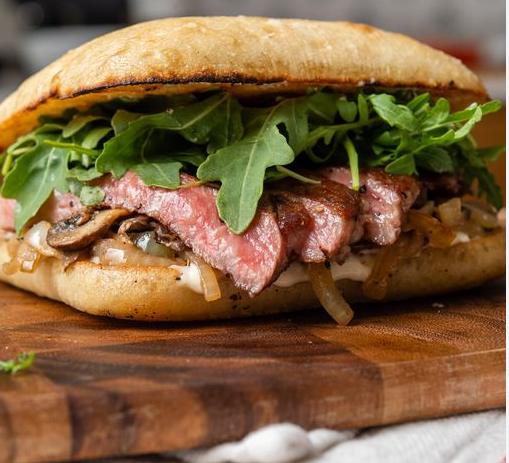 COOK TEMP
400℉

COOK TIME
9 minutes

YIELD
        1 servings

Ingredients
1 (16-ounce) boneless ribeye steak
1 tablespoon olive oil
1 teaspoon salt
½ teaspoon black pepper
½ cup sour cream
3 tablespoons prepared white horseradish, drained
2 teaspoons chives, freshly chopped
1 small shallot, minced
½ teaspoon lemon juice
Salt & pepper, to taste
Toasted sesame seed buns, for
serving
Baby arugula, for serving
Shallots, sliced, for serving
Instructions
1. Select the Beelicious Air Fryer and press Start/Pause.
2. Coat steaks with olive oil and season with salt and pepper.
3. Place the steak in the air fryer.
4. Select the Steak function, then press Start/Pause.
5. In a small bowl, combine the sour cream, horseradish, chopped chives, minced shallots and lemon juice.
6. Season horseradish cream with salt and pepper.
7. Remove steak from grill and let rest for 10 minutes before slicing. 8.
8. To assemble the sandwiches, add some of the horseradish cream to the bottom bun and top with baby arugula, sliced scallions and sliced steak.
Print this recipes