CREMINI MUSHROOMS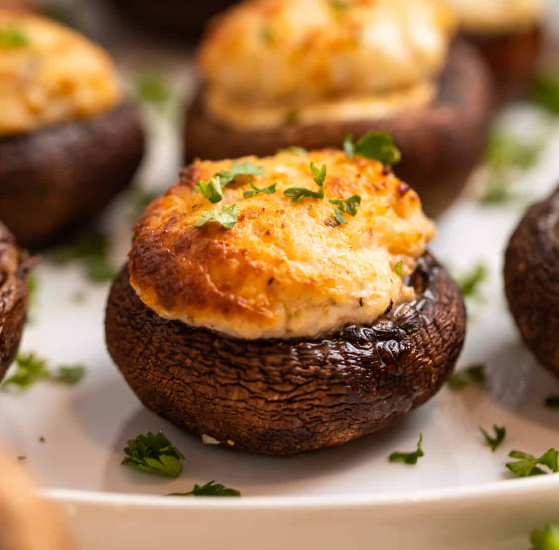 COOK TEMP
400℉

COOK TIME
10 minutes

YIELD
     2-3 servings

Ingredients
16 cremini mushrooms
5 ounces Fontina cheese, grated
5 ounces smoked gouda cheese, grated
3 ounces goat cheese
2 garlic cloves, grated
1/2 tablespoon fresh rosemary, chopped
1/2 tablespoon fresh thyme, chopped
1 tablespoon parsley, chopped, for garnish
1 small lemon, zested
1/4 cup Parmesan cheese, grated
Olive oil, for drizzling
1 teaspoon paprika, for garnish
Instructions
1. Remove the stems from each mushroom, making sure the entire stem is removed up into the cap. Discard stems.
2. Combine the Fontina, gouda, goat cheese, garlic, herbs, and lemon zest in a medium bowl until evenly mixed.
3. Spoon each mushroom cap full of the cheese mixture, heaping it slightly over the top of the cap.
4. Sprinkle each mushroom with a bit of Parmesan cheese and drizzle with a small amount of olive oil.
5. Place the crisper plate into the Beelicious Pro Air Fryer basket.
6. Place the mushrooms onto the crisper plate.
7. Set the temperature to 400°F and time to 10 minutes, then press Start/Pause.
8. Remove the mushrooms when done, sprinkle with paprika, then serve.
Print this recipes