COFFEE STREUSEL MUFFINS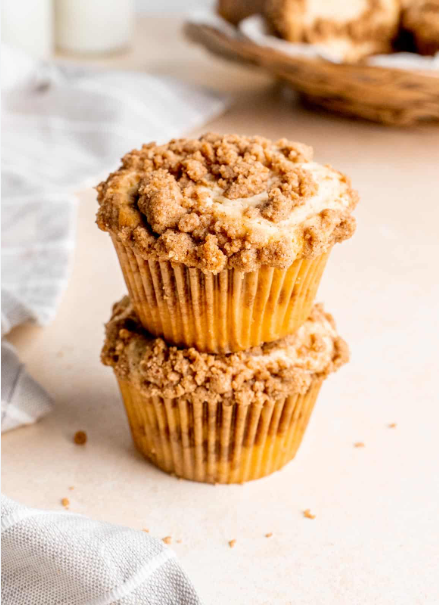 COOK TEMP
350℉

COOK TIME
12 minutes

YIELD
    2-3 servings

Ingredients
Crumb Topping:
1 tablespoon white sugar
1½ tablespoons light brown sugar
¼ teaspoon cinnamon
¼ teaspoon salt
1 tablespoon unsalted butter, melted
3 tablespoons all-purpose flour
Muffins:
¾ cup all-purpose flour
¼ cup light brown sugar
1 teaspoon baking powder
1/2 teaspoon baking soda
½ teaspoon cinnamon
½ teaspoon salt
½ cup sour cream
3 tablespoons unsalted butter, melted
1 egg
1 teaspoon vanilla
Cooking spray
Instructions
1. Mix all the crumb topping ingredients together until they form coarse crumbs. Set aside.
2. Combine the muffins' flour, light brown sugar, baking powder, baking soda, cinnamon, and salt in a large bowl.
3. Whisk the sour cream, butter, egg, and vanilla extract together in a separate bowl until well combined.
4. Mix the wet ingredients into the dry until well combined.
5. Grease muffin cups with cooking spray and pour the batter in until cups are 3/4 full.
6. Sprinkle the top of the muffins with the crumb topping.
7. Place the muffins into the preheated air fryer. You may need to work in batches.
8. Adjust the temperature to 350℉. Set the time to 12 minutes and press Start/Pause.
9. Remove when done and serve.
Print this recipes