BBQ Chicken Wings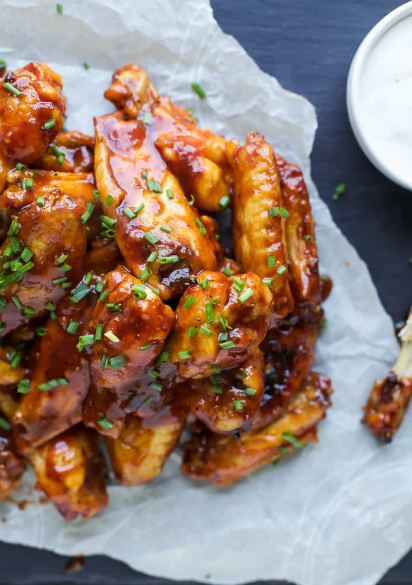 COOK TEMP
400℉

COOK TIME
22 minutes

YIELD
   2 servings

Ingredients
½ tablespoon smoked paprika
½ tablespoon garlic powder
½ tablespoon onion powder
½ tablespoon chili powder
½ tablespoon brown sugar
1 tablespoon kosher salt
1 teaspoon cumin
½ teaspoon cayenne pepper
½ teaspoon black pepper
½ teaspoon white pepper
3 (4-ounce) chicken legs, skin on
½ pound chicken wings
Barbecue sauce, for basting & serving
Instructions
1. Mix all the seasonings in a small bowl.
2. Sprinkle the seasoning over the chicken and allow it to marinate for 30 minutes.
3. Select Beelicious Pro Air Fryer and press Start/Pause.
4. Place the chicken into the air fryer.
5. Adjust the temperature to 400℉, adjust the time to 22 minutes, and press Start/Pause.
6. Brush the chicken with some barbecue sauce every 5 minutes.
7. Remove the chicken from the air fryer when done.
8. Serve with more barbecue sauce on the side.ed steak.
Print this recipes