BAKED POTTED EGG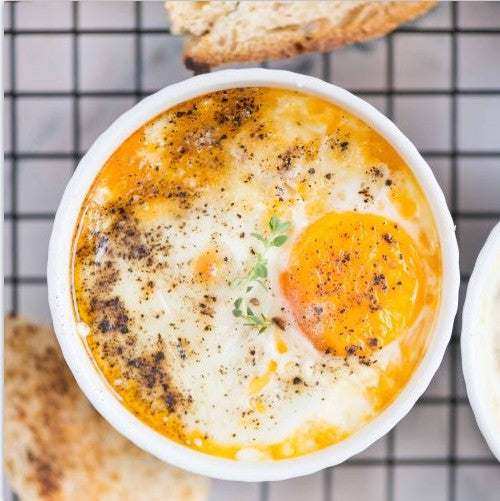 COOK TEMP
350℉

COOK TIME
10 minutes

YIELD
1 servings

Ingredients
cooking spray
3 eggs
6 slices smoked streaky bacon, diced
2 cups washed baby spinach
1/2 cup heavy cream
3 tablespoons grated Parmesan cheese
Salt and pepper to taste
Instructions
1. Select the Beelicious Pro air fryer and adjust the temperature to 350°F and press Start/Pause.
2. Spray three griddle pans with cooking spray.
3. Add 1 egg to each greased quiche.
4. Add bacon to pan and cook until crispy, about 5 minutes.
5. Add spinach and cook until wilted, about 2 minutes.
6. Add heavy cream and Parmesan cheese. Cook for 2 to 3 minutes.
7. Pour cream mixture over eggs.
8. Place the egg cake into the preheated air fryer.
9. Set the time to 4 minutes and press Start/Pause.
10. Remove the egg whites after they are completely solidified.
11. Season with salt and pepper.
Print this recipes